WFP Tools is the first and only program of it's type that allows the average user to replace or delete virus infected, corrupted and locked files with the original ones avoiding reformatting your computer and/or the cost of a technician.

WFP Tools makes it easy for anyone to;

Replace infected, corrupted or locked files
Delete infected, corrupted or locked files
Delete entire Directories including their contents
Extract replacement files from the installation CD
Disable/Enable Windows File Protection
Enable the use of free unsigned Themes and Visual Styles ( Examples )
Increase amount of Internet connections
Change registered owner, install path. Retrieve lost CD key

Wfp Tools also provides easy one click access to Windows;
Computer Management
Event Viewer
Local Security Policy
Performance
Services
Device Manager
Direct X
Disk Management
Disk Defragmenter
Command Prompt
Configuration Utility
Disk Cleanup
Dr Watson
Registry Editor
System Configuration Editor
System Restore

Bonus: Included with Registered version is a stand alone copy, Portable WFP Tools, which can be copied to any removable Drive, Disc or USB drive and operated from there without the use of any other support files or installing it on the client computer.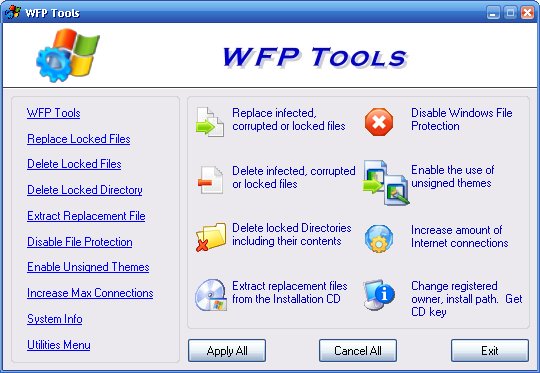 What is WFP?

From Microsoft;
Windows File Protection (WFP) prevents programs from replacing critical Windows system files. Programs must not overwrite these files because they are used by the operating system and by other programs. Protecting these files prevents problems with programs and the operating system.
However hackers can still find ways to infect or corrupt files and harm your system. It's extremely difficult if not impossible for the average user to replace files meaning most often a format and re-install is the only way to rid yourself of the corruption or infection. WFP Tools makes the process simple.
Example Scenario
A Windows System file has been corrupted or infected with a virus. Anti-virus programs can't "disinfect" it and can rarely delete it because it is a Windows protected file. The most it can do is quarantine it which still leaves it on your PC and usually renders it useless causing Windows problems.

WFP Tools can extract the original clean file from you CD and replace the infected one.

For Windows XP

Purchase Options
Single PC License
$29.95
Multiple PC licenses
2 Licenses
$54.00
5 Licenses
$130.00
10 Licenses
$240.00
20 Licenses
$450.00
Site License
$800.00
Download immediately after ordering
Purchase options at the above links are by credit card, mail order, phone, fax or call: 1-877-353-7297 (Toll Free), 1-425-392-2294 (International)
Purchases may also be made using Paypal