USB AutoRunner
USB AutoRunner is the ultimate add on for anyone who uses USB drives. With USB AutoRunner you can have applications or documents autorun when you insert your USB device. When you insert your USB device into a computer your chosen application or file will automatically open. USB autorunner is very light weight and does not require vast processing power to run. The following list shows some example usage for USB AutoRunner:
Autorun your Contacts, To Do List, Applications etc.
Autorun Word, PowerPoint, Excel files
Autorun a picture
Autorun video, music files or playlists
Optionally launches when Windows starts
Very low memory usage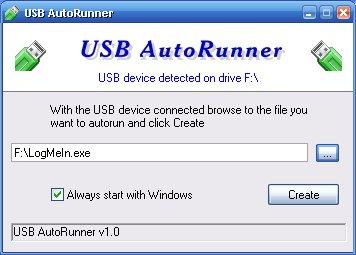 Freeware for Win95/98/Me/NT/Win2K/XP/Vista/Windows 7

For a more powerful USB application try My USB Menu
If you enjoy our Freeware and would like to contribute to further development of Freeware products you can make a donation through PayPal.